Monday, February 29th, 2016 at 7:18 am
It's safe to say that Chris Rock stole the night with his opening monologue response to the controversy hashtag #Oscarssowhite. READ MORE
Friday, February 26th, 2016 at 10:33 am
The ninth annual Black Women in Hollywood Luncheon powered by Essence Magazine was a huge hit. The event was quoted as a sacred place for black women to get together and celebrate one another's greatness.
I love the beauty of powerful, affluent, talented, and DOPE women. Check out some of my favorite images that the ladies shared via social media on yesterday after the break. READ MORE
Friday, February 26th, 2016 at 3:08 am
Oprah Winfrey, Shonda Rhimes and Chris Rock were some of the guest that were in attendance at the annual Essence Black Women in Hollywood luncheon held on Feb. 25th.
Wednesday, February 3rd, 2016 at 5:00 am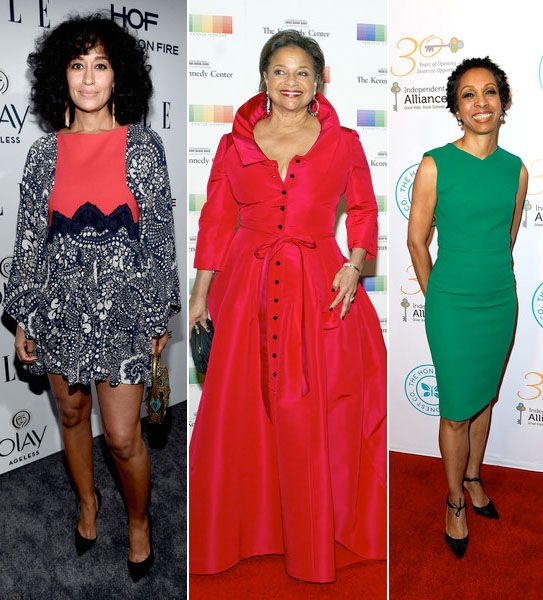 Three uber FAB chicks will be honored at ESSENCE's Black Women In Hollywood Luncheon later this month. Also, Misty Copeland's documentary "A Ballerina's Tale" is set to air on PBS. Get the deets inside…
"black•ish" starlet Tracee Ellis Ross, producer/director/dance Debbie Allen and entertainment attorney Nina Shaw will be honored by ESSENCE magazine at their pre-Oscar award luncheon, sponsored by Lincoln Motor Company.
Thursday, January 28th, 2016 at 12:31 pm
Gotta love the rumor mill! Word on the curb was that Common was allegedly dating Hollywood actress Laura Dern. But, new reports claim that's not true. Not only that, the Chi-town rapper was spotted getting kissy with Italian actress Claudia Gerini in Rome recently. More inside….
So…do y'all remember those flicks we showed you of Oscar winner Common and Jurassic Park actress Laura Dern grabbing dinner together in L.A. a few weeks ago? Well, the rumor mill caught on fire saying a relationship was budding between the two. We weren't immediately convinced. The body language in the photo looked a bit off.
Well it seems our hunch may have been right. A source close to the Chi-town rapper tells HipHollywood he and Laura are NOT an item. The rumors are not true, according to said source.
Another report by US Weekly confirmed Common and Laura were in fact an item and that the "Glory" rapper even met her two children,14-year-old son Ellery and her 11-year-old daughter Jaya. Hip Hollywood's source says Common actually may have indeed met her children, but it's strictly platonic between them. The source says Common and Laura recently shot a film together and were dining out (and possibly meeting family members) on a friendly dinner outing.
The SELMA star is currently in Rome, Italy, likely filming for (at least) one of his upcoming movies, Leavey and John Wick 2. He has been keeping his fans up-to-date on his travels around the city via Instagram. Which brings us to…
We ran across a few snapshots of Common leaving dinner while in Rome recently (which we can't post here). And he wasn't alone. He was spotted with Italian actress Claudia Gerini (above), who starred in The Passion of the Christ.  As they said their good-byes they looked like there COULD be some chemistry. Claudia tightly embraced Common around his neck as she kissed him.
Mmhmm… we see you Common.
Tuesday, January 26th, 2016 at 9:48 am
VH1's red-hot Monday night lineup is turning up this winter as two of the network's veteran heavy hitters return with the series debut of "Stevie J & Joseline Go Hollywood". After making a splash in "Love & Hip Hop: Atlanta," these fan favorites are sure to keep the "OMG" moments coming as they chase their California dreams in Los Angeles.
Wednesday, September 23rd, 2015 at 9:49 pm
On Monday nights (Sep 21) episode of Love and Hip Hop Hollywood, Brandi discovers that max has been leaving his wedding ring at home and decides to pop up on him at the studio with MizzNikkiBaby. In other news, Fizz has to put a halt on his relationship with the new girl Kamiah after he comes home and realizes that she has moved some of her belongings into his home. SouljaBoy's sidekick shows up and Nia decides to put her in her place. READ MORE
Tuesday, September 15th, 2015 at 8:05 am
On Monday nights (Sep 14) episode of Love and Hip Hop, Ray J is shocked and confused to learn that Teiarra and Princess have some sort of relationship. Moneice disappears because of her new man, Richie Dollas. Soulja Boy and Nia Riley run into relationship problems when an old friend of theirs threatens their relationship. All while Milan wants Miles to move in with him, but he isn't willing to let go of his old life. READ MORE