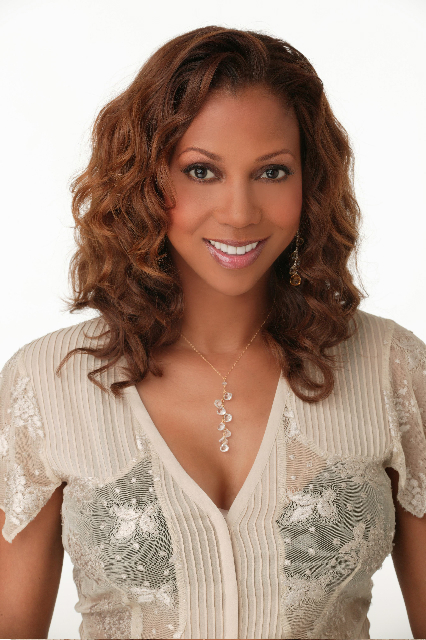 Well it seems like everybody and their MOMMA has something to say about the Kim Kardashian and Kris Humphries wed-lock split-up. Latest person to speak out on the topic is the beautiful Holly-Robinson Peete.
Best known for her roles on 21 Jump Street and Hanging with Mr.Cooper (which used to be the SH*T!, damn I miss that show.) Anyways, she weighed in on the divorce between the two youngins.
She told the Hollywood Reporter that she doesn't feel bad for Kim Kardashian getting a divorce because she thinks the reality star was in it for the money and she doesn't think it's going to ruin Kim's empire.
"If a sex tape doesn't ruin your brand, how does a divorce ruin your brand?" Peete said.  "The conversation that, well, America is upset with her, because she has no respect for the covenant of marriage is silly. This is all about money, and fame, and all those things. This is her brand. I think it's going to be totally fine. It's the next chapter. It's now who's she going to date next."
Which is kind of true. I actually thought the same thing plenty of times before. How is it that " leaking"  your most intimate moments with a person which whom you consentually agreed in doing together isn't shamed upon but it actually HELPS you gain more of a social status in the entertainment world then tarnishing it.?! 
I mean geez Kim you got plenty of girls looking up to you…
Peete, who's been married to former NFL star Rodney Peete, says she recently hung out with some pro basketball players and their wives over Halloween and after discussing the topic the consensus is that Kris got used.
"That's all those guys can talk about. And the gist of it was they just felt so sorry for him, because they know he just got so caught up in stuff, And I just feel bad that no one's talking about him, I really do. I feel terrible for that boy. They were saying that when you're known for marrying someone who has a sex tape out, that was all they can talk about, and how that isn't sexy right there. I feel terrible for that boy. I think he really loves her and he's young and he's not used to that type of world. I think he got used, I really do."
They all are entitled to their own opinions on the situation, and so are we. I don't get into it and I keep my nose out of peoples business. But I will say, that it does sucks for both parties and it's shameful for the Holy Bible to be going through so much non-sense.
Spotted @BET
Tagged with: B.E.T. • Holly Robinson-Peete • Hollywood Reporter • Kim Kardashian • Kris Humphries • Rodney Peete • The Talk
Filed under: Black Entertainment Television • Celebrities in Trouble • Celebrity Couples • Celebrity Gossip • Celebrity Interviews • Celebrity Marriages • Tom Foolery