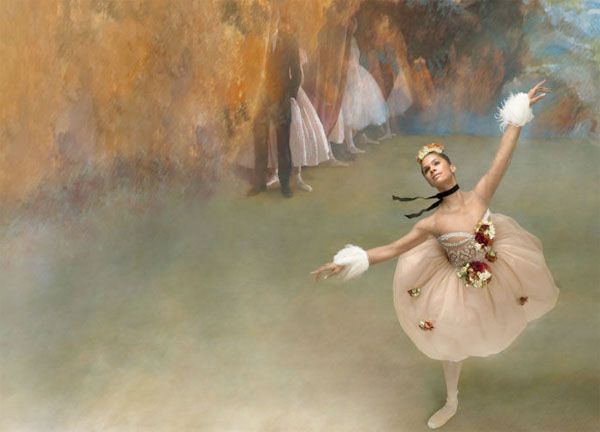 Misty Copleand recreates a set of iconic paintings by Edgar Degas where she brings the photos to life with a modern twist. Check out the spread and get deets on Russell Westbrook continuing to build his fashion empire with Tim Coppens and Barneys inside….
Prima ballerina Misty Copeland constantly amazes us and she continues to do so with a new shoot recreating a few iconic paintings.
The principal dancer struck a few signature ballet poses to recreate some of 19th century French artist Edgar Degas' famous works.
Why this particular artist?
Edgar was known for creating paintings and sculptures that studied the art of dance. More than half of his famous paintings and sculptures depicting dancers. And who better to recreate them than Misty!
For the March 2016 issue of Harper's Bazaar magazine, the 33-year-old, who became the first African-American woman to be named a principal dancer at the American Ballet Theatre, twirled, leaped and posed in high-end fashions to capture the same moments Edgar created hundreds of years ago.
"It was interesting to be on a shoot and to not have the freedom to just create like I normally do with my body," said Misty. "Trying to re-create what Degas did was really difficult. It was amazing just to notice all of the small details but also how he still allows you to feel like there's movement. That's what I think is so beautiful and difficult about dance too. You're trying to strive for this perfection, but you still want people to get that illusion that your line never ends and that you never stop moving."
Going from poverty and living in a welfare motel with her mom and five siblings to becoming a history making ballerina, Misty credits ballet for saving her life.
"Before dance came into my life, I don't really remember having any major goals or dreams of wanting to be anything," she said. "In the environment I grew up in, we were constantly in survival mode. I went to school, and I was really just trying to fit in and not be seen. But ballet was this thing that just felt so innate in me, like I was meant to be doing this."
We're glad she didn't miss her calling because she's certainly an inspiration to little brown girls everywhere. While she has gained much notoriety for her accomplishment, she's not too keen on being a celebrity.
"I was drawn to ballet and performing for a reason that I think a lot of people can't really understand or relate to," she said. "People think it's like, 'You're out there,' or 'You're exposed.' But I felt safe when I was on the stage, like no one could get to me. It was the first time in my life that I felt protected."

She continued, "So when all of the media and the attention that came along with me entering the ballet worldarrived, that was not what I wanted. I take it all very lightly, in terms of people calling me a 'celebrity' and things like that. I think what I'm doing is showing people how incredible the arts can be for a child and how it's changed my life. I try not to get caught up in the other stuff, but I understand the importance of me doing it."
Yes to it all!
Check out the Edgar Degas inspired spread below where she ups the ante in high fashion from Alexander McQueen to Oscar de la Renta: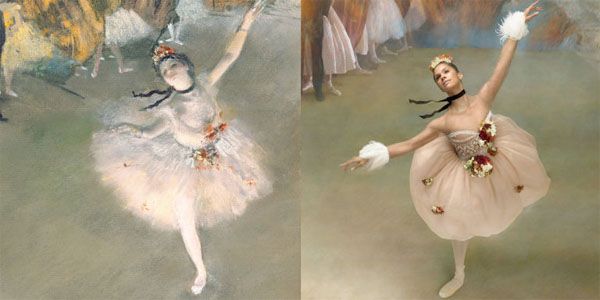 Copeland re-creates Degas's The Star; Valentino dress, $15,500, 212-355-5811; Wilhelm headpiece, $495, and corsages,$135; Mokuba ribbon, $11 per yard.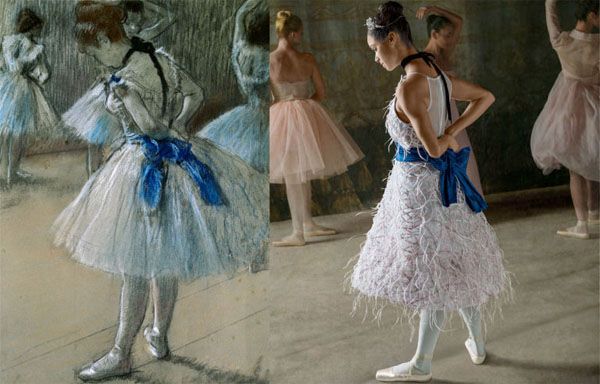 Copeland as Degas's Dancer; Carolina Herrera top, $1,490, skirt, $4,990; Hatmaker by Jonathan Howard headpiece, $750, hatmaker.com.au; Mokuba ribbon, $11 per yard; Mood Fabrics fabric (worn as a belt).
Copeland as Degas's Little Dancer Aged Fourteen; Alexander McQueen dress, $4,655, and corset, $4,525, 212-645-1797; Mood Fabrics ribbon (in hair).
Copeland as Swaying Dancer (Dancer in Green); Oscar de la Renta dress, $5,490, 212-288-5810; Mokuba ribbon, $11 per yard; Hatmaker by Jonathan Howard headpiece corsage, $70, hatmaker.com.au.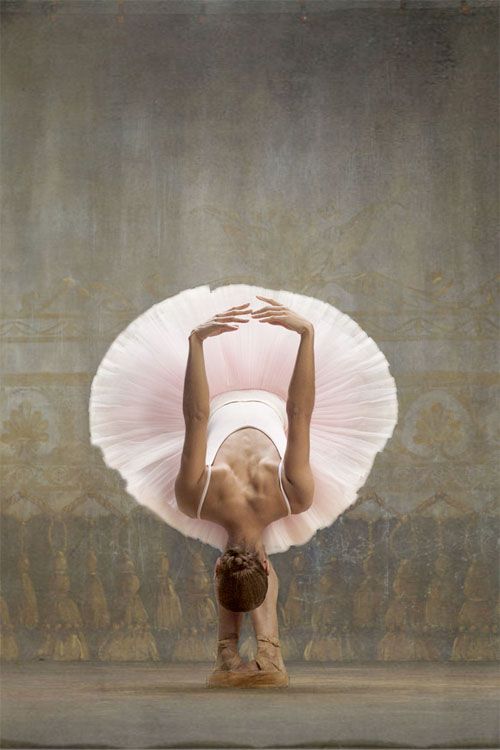 Mirella leotard, $22, mirella-dance.com; Claudia Folts for Tutu.com tutu, $240.
Stunning! You can read her full interview here.
Check out a behind-the-scenes clip that shows Misty posing it up in action below:
In fashion news….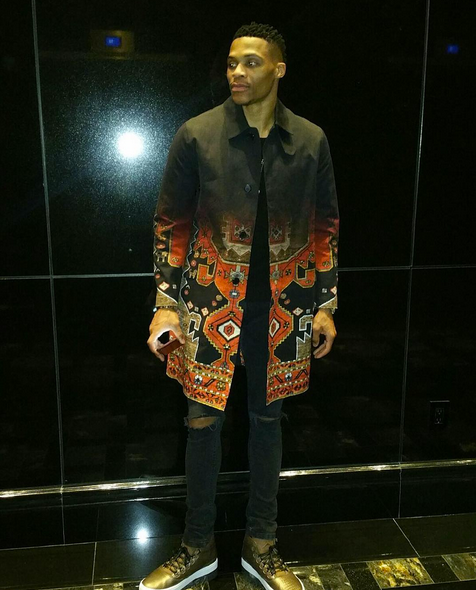 Fashion lover and NBA player Russell Westbrook is back with a new clothing collection just in time for New York Fashion Week.
The OKC Thunder point guard and NYFW regular has teamed up with CFDA menswear winner Tim Coppens and luxury retailer Barneys New York for another collection, the follow up to his second iteration of the exclusive Westbrook XO Barneys New York collection.
The new men's ready-to-wear collection will combine Tim's relaxed silhouettes, neutral colors, and layered looks with Russell's creative fashion flare and style.
Tim had this to say about collaborating with Russell on his new line (via press release):
"I've enjoyed getting to know Russell over the last few years as he has been such a great supporter of the Tim Coppens brand. Likewise, Barneys has supported us from the beginning as our first retailer for both the men's and women's collection. This collaboration felt natural for us and we are excited about the way the collection has come together."
Pieces from the Russell Westbrooks XO Barneys New York x Tim Coppens collection (seen above) will be available online at Barneys.com and select Barneys New York stores.
Congrats Russell!