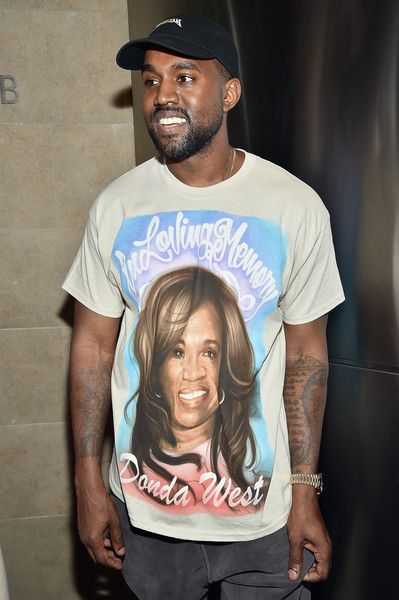 Kanye West is back on his Good Fridays ish with new music released today.  We've got "30 Hours" inside, plus his latest beef with Taylor Swift's brother….
Yeeze is fresh
off his Yeezy Season 3 fashion show.  He just dropped a new song off his TLOP album (which drops today) called "30 Hours" in honor of his Good Friday new music releases.
On the track, he gives yet another slight at an ex, this time she remains unnamed.  But we have our guesses as to who he's speaking of.
Yeezy raps:
"My ex said she gave me the best years of her life, I saw a recent pic of her I guess she was right."
Sigh.
Check out the song in full below: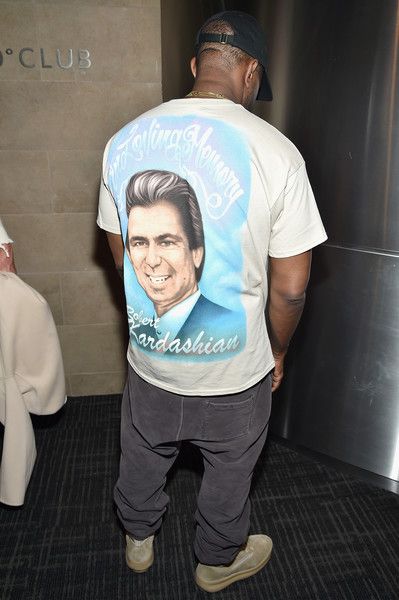 Meanwhile, 'Ye is in yet another beef.  He has records to sell, so this shouldn't be a surprise.
During his Yeezy Collection fashion show at Madison Square Garden last night, the rapper played his new album for the crowd.
On the track "Famous," he rapped this lyric (listen above):
"I feel like me and Taylor might still have sex / Why, I made that bitch famous / God damn / I made that bitch famous."
Taylor's brother Austin immediately took to his Instagram to show a video of him throwing Kanye's Yeezy 350 Boosts sneakers – which were likely gifted to him by Ye so Kanye could get some pub (Taylor was once spotted wearing them) — in the garbage.
Then Kanye launched into one of his numerical bulleted rants on Twitter this AM.  He said, basically, that Bitch is used as a term of endearment in hip hop and Taylor herself allegedly said Kanye made her famous. He claimed it was all Taylor's idea to roll this into a track anyway.  He also says about that airbrushed tee…he got his wife's permission first.  Supposedly. (read from bottom up).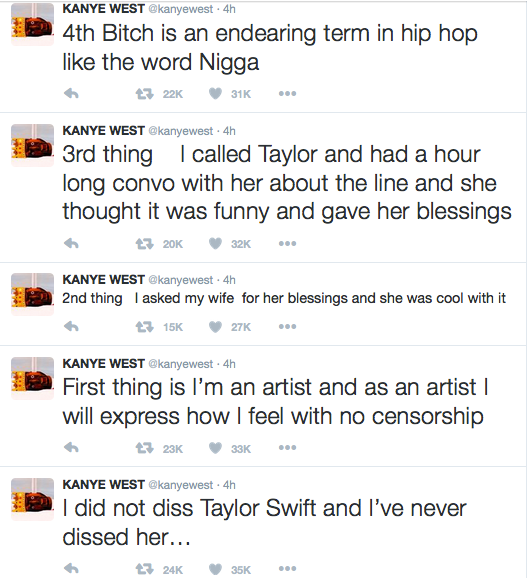 But, not so fast.  As usual, Kanye is saying one thing while the other person he's involving calls him out for lying.  Taylor Swift's rep posted this statement last night explaining what ACTUALLY happened and said Taylor in no way co-signed his lyrics:
Still, Kanye didn't stop there.  He went on about "they" wanting to control us with perception and money…and two tweets later he says he wants to be Creative Director of Hermes.  HERMES.  The fashion house that is literally the epitome of money and perception…and Kanye wants to be in control of it.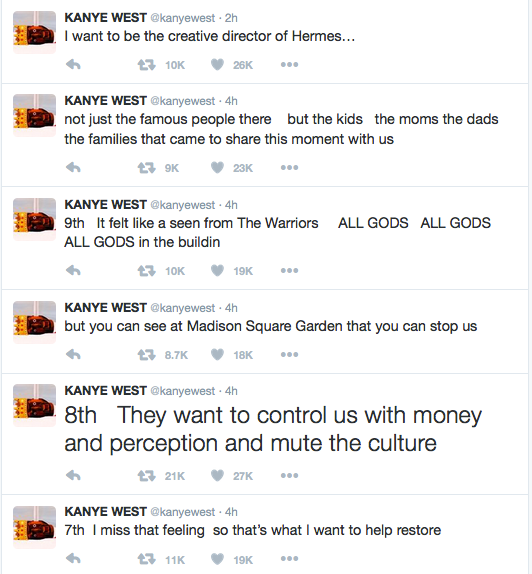 The king of creating his own hype strikes again.  He often contradicts himself in the same breath and seemingly uses it as leverage to manipulate folks into getting them to do whatever he wants.
Maybe he is a genius afterall…
Photos: Twitter/Getty