Snoop Dogg, Jussie Smollett and Russell Simmons are donating their time and resources to help Flint residents who battling the water crisis. Peep their do-gooder pics and find out what happened with Timbaland supposedly cancelling a charity concert in Flint inside…
Many YBF celebs have been lending a helping hand to Flint residents who are battling a lead-water crisis. And the do-gooder spirit is rubbing off on other celebs.
Over the weekend, Snopp Dogg took time out of his schedule to make make a stop in Flint before he hit the stage for a concert in Detroit. He went to speak with the city's mayor Karen Weaver about how he can help the city with getting clean water as residents are still dealing with contaminated water. News reporter Kelli Taylor was also in the mix.
He showed up in his "Flint Lives Matter" shirt to talk to the residents there about how they're dealing with the crisis.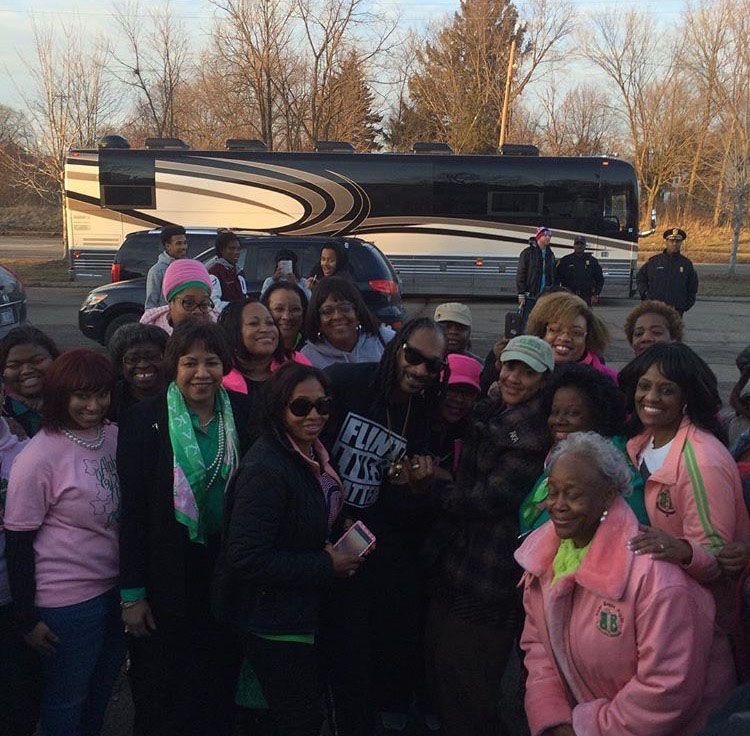 The "Gangsta Luv" rapper also snapped a group pic with the mayor and her Sorority sisters of Alpha Kappa Alpha.
Elsewhere in Flint…
"Empire" breakout star Jussie Smollett jetted from Chicago (taping for the new season of the hit FOX series) to personally meet with a few Flint residents. The actor paid a visit to Berston Field House in the Creative Expression Dance Studio where he spoke with folks one-on-one to hear their stories on how they've suffered from not having clean drinking water.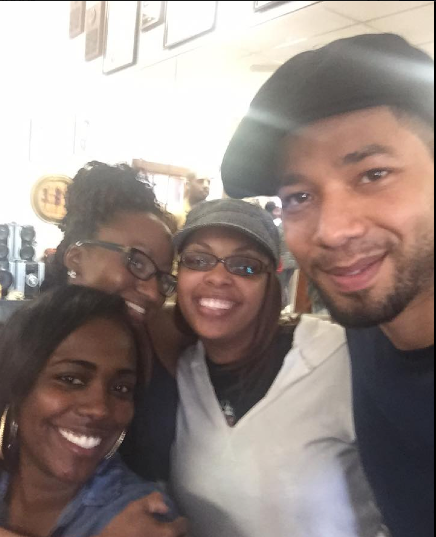 The residents seemd super happy to get some star power shining in their town and shining on their situation.  After making his rounds, Jussie hopped on Instagram to show love to the people of Flint promising them he would be returning. He said, "On the [plane] back to Chicago but my heart is still in #Flint. I pray y'all know that you are heard and you matter. We aren't nearly done. I will see you in a few weeks. I Love y'all"
Also in the city…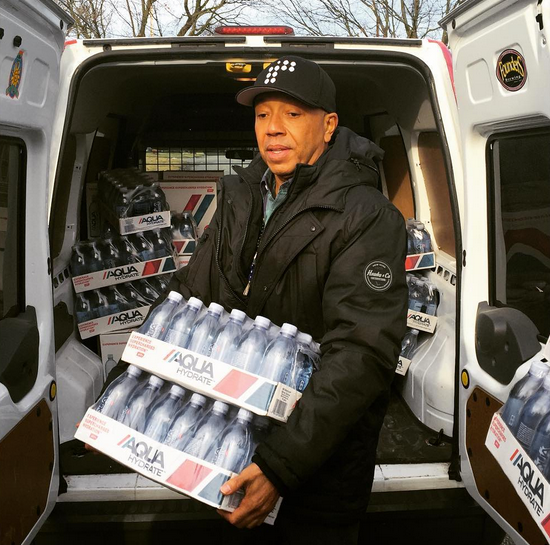 Russell Simmons joins celeb friends Diddy, Wiz Khalifa and more to give back to Flint. But, he's adding a more personal touch.
Today, the Hip Hop mogul, on behalf of his company RUSHCard, is pounding the pavement dropping off 150,000 bottles of AQUAhydrate to the residents that have been affected by the water crisis. AQUAhydrate has pledged to provide water to the city until the issue is resolved.
He met with a woman who was given a water filter by the government that ultimately is doing NOTHING to help clean the water. He captioned, "Just met Nakeyja who is using government provided filters that are totally ineffective, as we tested them ON THE SPOT .. she has 2 children both of whom have lead poisoning. One does not speak at 3yrs old. And the other already tested very positive and has had seizures. The deeper I dig the nastier it gets."
Heartbreaking!
Peep a clip of Russell in action below:
Nice to see our YBF celebs stepping up and helping the community during the crisis! Keep it up guys!
In other Flint news…
Yesterday, the NY Daily News ran an article stating Timbaland refused to perform at a charity show in Detroit for residents afflicted by Flint's poisoned water supply when the club served the wrong brand of champagne. It was said he requested Ace of Spades champagne and when he didn't get it, he decided he wasn't going to perform…this all according to Club Bleu co-owner Mitchell Jaworski.
We side-eye'd the story because it seemed sort of ridiculous, but crazier things have happened.
Now, Timbo is speaking out and he's addressing the crazy rumor. Folks have been dragging him in his comments section on his Instagram account. So, he finally decided to speak out.
In the post, he said he wasn't scheduled to perform in the first place, although the flyer that went out DID say he was set to perform. He said the promoters asked him to perform at the last minute and apparently he wasn't feeling it, so he didn't. The superproducer went on to say he has donated money to the cause and it's a shame people will believe anything someone says without checking the facts. Peep his response above. So there you have it. Timb did NOT blow off a charity concert.