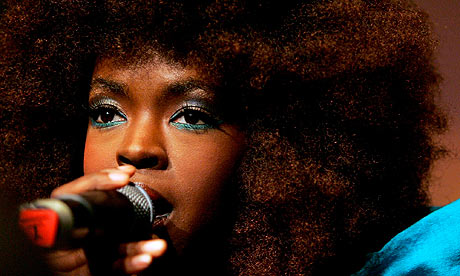 What was supposed to be a secret became very public this weekend, as viewers awaited a Lauryn Hill performance along side The Weeknd at 58th Annual Grammy Awards. 
The Fugee singer appeared to have been scheduled to join The Weeknd as photos surfaced of a rehearsal on Monday. Although once the show began and Ms. Hill was no where to be found during the show, the people at home and the Grammy committee were confused.  There now may be some answers to what went down causing the performance to go awry.
A representative for Lauryn Hill stated to Billboard:
The Grammy's announced a performance by Ms. Lauryn Hill prematurely and without approval. Ms. Hill had concerts all weekend, leaving no time to prepare, and was uncertain she would even be able to make it to LA in time to rehearse for the event…Any performance that could have happened was never confirmed, and should not have been advertised as such. Ms. Hill was invited to do a collaboration with an artist she appreciates. The performance was intended to be a surprise and unfortunately due to its last minute nature, was unable to come to fruition.
Recording Academy president Neil Portnow disputes this claim countering that Lauryn"s statement was false. Portnow told USA Today:
None of that statement is accurate, She was there for it, completed it and left the building. And then she did not get back in time to make the show. I'm sorry, that's the bottom line. That's the truth. That's unfortunate. I guess those things happen.