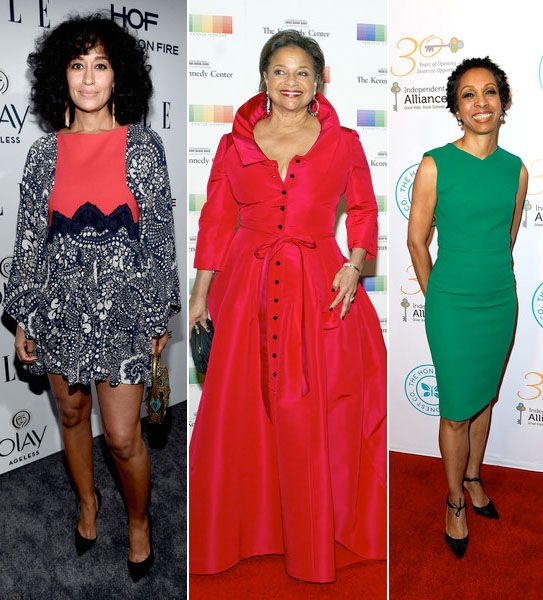 Three uber FAB chicks will be honored at ESSENCE's Black Women In Hollywood Luncheon later this month. Also, Misty Copeland's documentary "A Ballerina's Tale" is set to air on PBS. Get the deets inside…
"black•ish" starlet Tracee Ellis Ross, producer/director/dance Debbie Allen and entertainment attorney Nina Shaw will be honored by ESSENCE magazine at their pre-Oscar award luncheon, sponsored by Lincoln Motor Company.
Spotlighting three African-American women pushing the limits, Tracee will be honored with the Fierce & Fearless Award, Debbie will be honored with the Legend Award and Nina will accept the Lincoln Power Award at the 9th annual Black Women In Hollywood Luncheon, set to take place February 25th at the Beverly Wilshire Hotel.
Black excellence will be at an all-time high. The star-studded affair will include appearances by Oprah Winfrey, Shonda Rhimes, Zendaya, Nick Cannon and Ryan Coogler, along with a performance by R&B artist Leon Bridges. Nice!
We'll get to see all that goes down during the empowering luncheon as it will air on Saturday, February 27 at 10 p.m. ET/PT on OWN. Can't wait!
Speaking of FAB chicks….
If you haven't seen principal ballerina Misty Copeland's documentary, it's coming to a TV near you real soon. The prima ballerina's documentary "A Ballerina's Tale" is set to premiere February 8th at 10 PM EST on PBS.
The history-making ballerina, who became the principal dancer at the prestigious American Ballet Theatre, gives an intimate look as she shatters barriers and transcends her art, inspiring little brown girls everywhere that they can accomplish anything they want in life.
"A Ballerina's Tale" documents Misty's historic rise to the elite level of ballet while shining a light on the absence of women of color at major ballet companies. Peep the clips above and below.
We're HERE for it!