Sources over at Thejasminebrand are bringing a new celebrity beef to the limelight.  Apparently Teyana Tayor and Rihanna may be on the verge of a Twitter fight. Do you think they are on to something?
When  Rihanna isn't too busy shading Chris Brown's girlfriend Karrueche Tran on her Instagram and Twitter accounts, she parties hard with her celebrity friends and uploads all the pictures of those  moments for all her adoring fans. While her fans may love Rihanna's edgy fashions, there are some people who feel the pop star is swagger jacking.
One person in particular seems to be Teyana Taylor who is reportedly friends with Chris Brown and is Karrueche and was also recently signed to Kanye West's label G.O.O.D. Music.
It appears that the more photos Rihanna shares of her in her fitted hats and shades and sneakers, the more messy Teyana's going to get on her Twitter account.
After Rihanna shared a few new photos from one of her latest nights of epic partying, Teyana promptly let her followers know that she doesn't think Rihanna invented her own sense of style.
In fact, she is pretty sure that Rihanna stole her style. Check out how everything went down.
Teyana started her shade off by re-tweeting a photo Ri-ri had recently uploaded:
Then she started going in: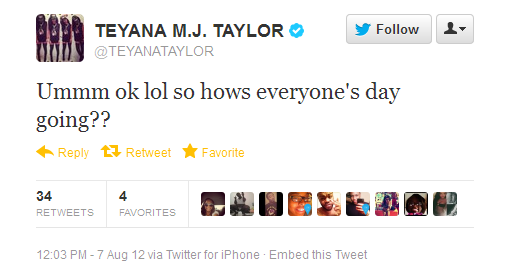 Rihanna's response: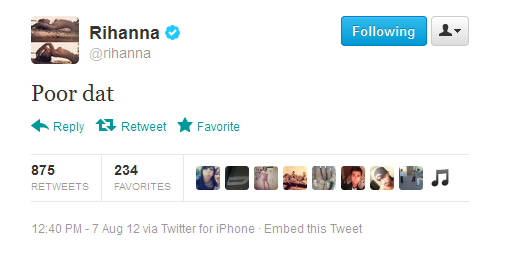 But from the looks of things Teyana is not afraid of how things might turn out between the two and  has no plans of taking back her comments tweeting: